BALZER JS SIGNATURE LAZYBONES DISTANCE 3.10m (27-68g) 5-8kg Toray Carbon Spinning Rod
BALZER JS SIGNATURE LAZYBONES DISTANCE 3.10m (27-68g) 5-8kg Toray Carbon Spinning Rod
Product Description
BALZER JS SIGNATURE LAZYBONES DISTANCE 3.10m (27-68g) 5-8kg Toray Carbon Spinning Rod
This exceptionally fast and ultra high quality spinning rod is lightweight and one can fish with it for many hours without tiring. Medium-sized stickbaits, spoons or spinner or wobblers up to 60-65g are no problem for the fast action rod, even small movements of the tip will be transmitted to the bait attractively. When fishing with rubber fish, worms or shads the JS "SIGNATURE" will outplay any other similar rods as it can display its incredible features in full.
This is a classic masterpiece designed for the classic lazybones method.
BALZER JS SIGNATURE LAZYBONES DISTANCE 3.10m (27-68g) High End Spinning Rods, Ultra High Modulus IM-12 carbon blank

(Toray Carbon/ over 40 ton Japanese Toray Carbon) High quality Portuguese handle, Original FUJI reel seat Super Slim Titanium SIC guides 9 ring-guides 2 sections
One of the few rods which was really missing in the market: Using the "Lazybones-Distance" you will be able to precisely reach the rock, jetty pillar or some submerged obstacles (including groynes and breakwaters close to the shore) at casting distances of over 80 to 90 meters!
It is sensitive enough to go for bream, tailor or flathead but also strong enough to stop the meanest salmon, snapper, snook, red emperor or even mulloway.
Time and time again, this dream rod never loses its speed and the blank elasticity has to be tested to be believed.
JS "SIGNATURE" is a 3.10m rod that only weighs 295 grams!!
High End Rods at Incredibly low prices!
TECHNICAL CHARACTERISTICS
Ultra High Modulus Toray Japan IM-12 carbon blank (read more about fishing rod carbon blank types)

FUJI reel seat

Super Slim Titanium SIC guide rings

Original high quality Portuguese natural cork handle

Perfect joints sealed with Epoxy laqueur

2 sections

Length:3.10m

Casting weight: 27-68g

Rod Rating: 5-8kg

Weight: 295g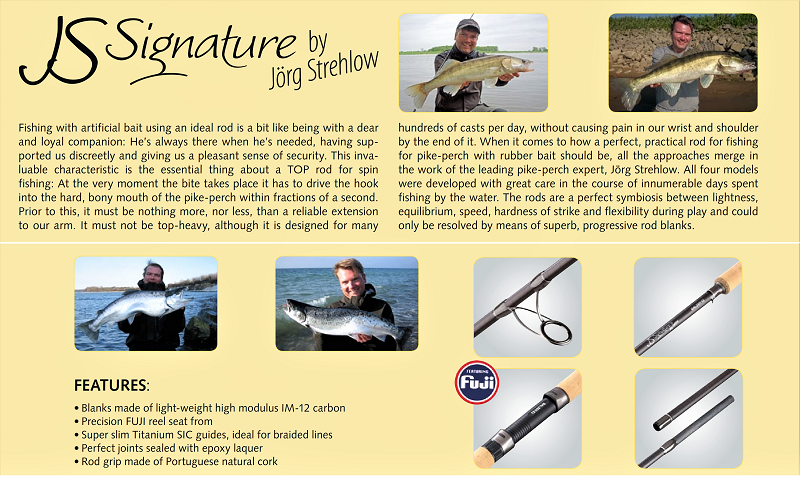 Type of Ring Guides:
Super Slim Titanium SIC guides
Type of Reel Seat:
Original FUJI reel seat
Type of grip handle:
Portuguese natural cork
Type of Blank:
High Modulus Japanese TORAY IM-12 Carbon Blank
Australian Online Fishing Tackle Shop
Adore Tackle sells exclusively in Australia premium European fishing brands, such as: SPORTEX Germany, D.A.M Germany, COLMIC Italy, BALZER Germany, SUNSET France, SAKURA France and more.
We offer a wide variety of fishing rods (surf rods, boat rods, spinning rods or travel rods) and fishing reels (spinning reels, big game and surf reels, overhead reels, etc) soft and hard fishing lures, mono or braided fishing lines and accessories.
All our fishing tackle products are 100% genuine and backed by 2,3 or 10 year manufacturer warranty.
On top of that, we offer FREE Shipping on all orders Australia wide with no minimum order amount.