BALZER JS SIGNATURE SEATROUT SENSO 3.00m (4-19g) 1-4kg Toray Carbon Spinning Rod
BALZER JS SIGNATURE SEATROUT SENSO 3.00m (4-19g) 1-4kg Toray Carbon Spinning Rod
Product Description
BALZER JS "SIGNATURE" SEATROUT SENSO 3.00m (4-19g) 1-4kg Toray Carbon Spinning Rod
Many of you don't knowcJörg Strehlow (JS). He is one of the most experienced BALZER equipment testing and design specialists but also one of the most knowledgeable sea trout, cod, mullet, flatfish and herring guides in Germany! His tours have been a household name to all friends of fishing in general and "fast silver" in particular, and each year numerous anglers take part in them. It goes without saying that the insights of such experienced professionals are worth their weight in gold when it comes to constructing the perfect sea trout and salmon rod!
Unlike a snapper, snook, flattie or bream rod, spin rods for the coast, in the surf must be absolute casting catapults. Such a catapult must be capable of a successful cast over a distance of 100 metres carrying baits weighing maximum 25 grams. They need to develop plenty of heart and soul during play: because sea trout or mullet have soft mouths and slip out if the rod is too hard! Nevertheless, the ideal rod must provide sufficient reserve for a fat cod, or flattie or the "Big Mama" as sea trout and salmon anglers endearingly call capital fish beyond the five to seven kilo mark, with a sparkle in their eyes.
All these characteristics come together in the 3.20-metre long "Sea Trout Classic" recently developed for BALZER by Jörg. For those who prefer to fish with lighter bait weights - which is often done successfully on flatter beaches or from the rocks - the perfect partner is available in the shape of the "Sea Trout Senso".
There are two fundamental differences when spin fishing on the coast: If you preferred method to target sea predators over a great distance while being rather stationary, from the beach or rocks: the CLASSIC is ideal for this.
BALZER JS "SIGNATURE" SEATROUT SENSO

3.00m 4-19g High End Spinning rods Ultra High Modulus IM-12 carbon blank High Quality Portuguese handle, Original FUJI reel seat Super Slim Titanium SIC guides 9 ring-guides 2 sections
The SEA TROUT SENSO is the ideal companion for covering larger sections of a beach, but above all for fishing with lighter baits in shallower bays or overgrown parts of beaches. It is a real experience to be able to shoot even very light bait with the catapult-like rod blank over incredible casting distances. Yet you have the permanent feeling that you are holding no weight in your hand! The silky-soft action brings every fish safely into the landing net. Nevertheless, in most cases there is sufficient reserve to be able to restrain even the fish of your life. It is also a great pleasure to fish for snook, salmon, bream or even tailor using small, slim spoons and the SENSO: you can hardly get any more action when you are spin fishing!
Not to mention that this rod is ideal for targeting trout in Tasmania, or the alpine regions of NSW and Victoria.
TECHNICAL CHARACTERISTICS
Ultra High Modulus TORAY Japan IM-12 carbon blank (read more about fishing rod carbon blank types)


FUJI reel seat

Super Slim Titanium SIC guide rings

Original high quality Portuguese natural cork handle

Perfect joints sealed with Epoxy laqueur

2 sections

Length: 3.00m

Casting weight: 4-19g

Rod Rating: 1-4kg

Weight: 180g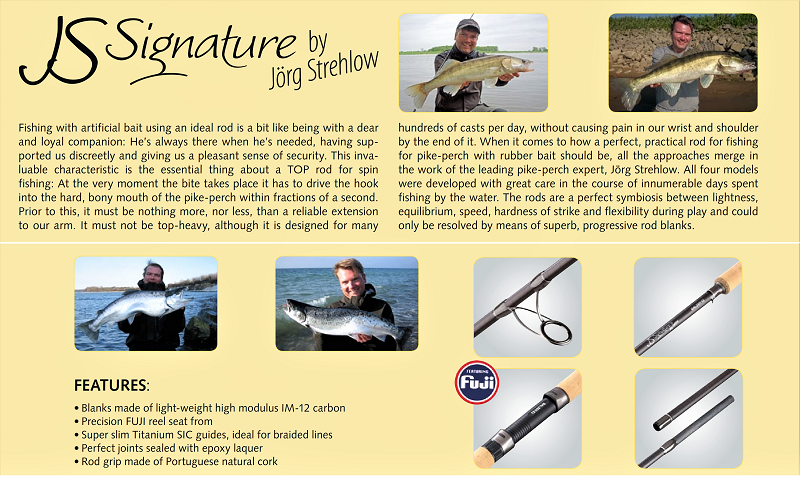 Type of Ring Guides:
Super Slim Titanium SIC guides
Type of Reel Seat:
Original FUJI reel seat
Type of grip handle:
Portuguese natural cork
Type of Blank:
High Modulus Japanese TORAY IM-12 Carbon Blank
Australian Online Fishing Tackle Shop
Adore Tackle sells exclusively in Australia premium European fishing brands, such as: SPORTEX Germany, D.A.M Germany, COLMIC Italy, BALZER Germany, SUNSET France, SAKURA France and more.
We offer an extensive range of fishing rods (surf rods, boat rods, spinning rods or travel rods) and fishing reels (spinning reels, big game and surf reels, overhead reels, etc) soft and hard fishing lures, mono or braided fishing lines and accessories.
All our fishing tackle products are 100% genuine and backed by 2,3 or 10 year manufacturer warranty.
On top of that, we offer FREE Shipping on all orders Australia wide with no minimum order amount.