BALZER MK IM-12 BIG PIKE WHIP BC 2.55m (40-105g) 6-12kg IM-12 TORAY Carbon Baitcasting Fishing Rod
BALZER MK IM-12 BIG PIKE WHIP BC 2.55m (40-105g) 6-12kg IM-12 TORAY Carbon Baitcasting Fishing Rod
BALZER MK IM-12 BIG PIKE WHIP BC 2.55m (40-105g) 6-12kg IM-12 TORAY Carbon Baitcasting Fishing Rod
Product Description
BALZER MK BIG PIKE WHIP BC 2.55m (40-105g) 6-12kg IM-12 Carbon Baitcasting Fishing Rods
Like all of the models in the IM-12 series, this exceptionally fast casting rod is light in weight and one can fish with it for many hours without tiring. Big-sized wobblers, spinnerbaits, shads and stickbaits up to 25 cm and 100g are no problem for the fast action rod, even moderate- big to big jerks can be presented attractively and lively. And when fishing with big sized rubber fish, worms, crustaceans the pike whip can play out its strong features to the full.
It is just as good at short, gentle lobs out of the rod blank as the classic lazybones method as well as Texas rigs.
Yet it is sensitive enough to also present to big bream and big salmon or mulloway and flatheads or even kingfish. It comes with trigger handle and guides for multiplier/ bait-casting reels.
BALZER MK BIG PIKE WHIP BC 2.55m (40-105g) 6-12kg Ultra High Modulus IM-12 carbon blank

(Toray Carbon/ over 40 ton Japanese Toray Carbon) Fine quality Duplon handle Titanium SIC guides 9 ring-guides 2 sections
Ideally paired with the BALZER Alegra BC6000 reel
High End Rods at Incredibly low prices!
TECHNICAL CHARACTERISTICS
Ultra High Modulus TORAY Japan IM-12 carbon blank (read more about fishing rod carbon blank types)

FUJI skeleton reel seat

High quality DUPLON handle

Titanium SIC guide rings

2 sections

Length:2.55m

Casting weight: 40-105g

Rod Rating: 6-12kg

Weight: 185g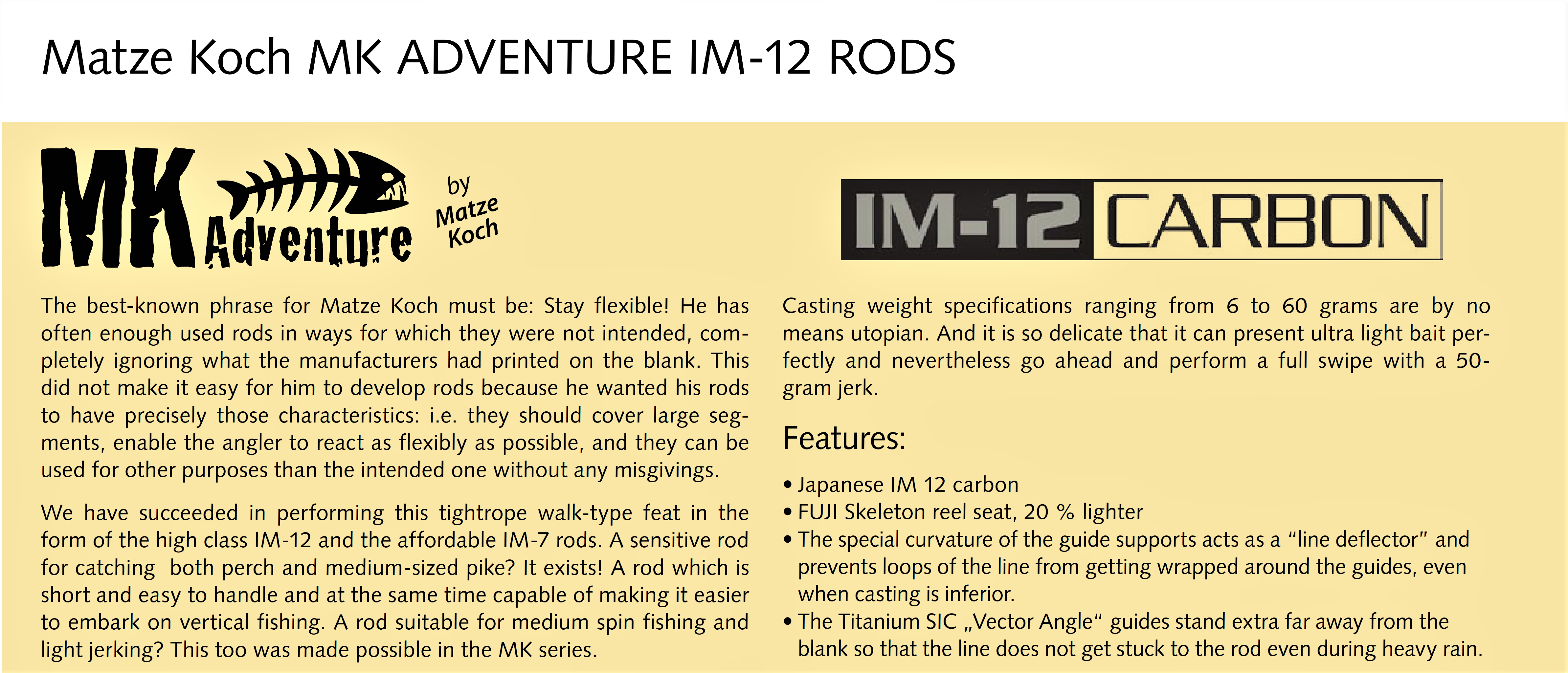 Product Reviews
Write Review
Casting into the future.

Posted by Unknown on Jun 18th 2018

This is a very well made and designed rod, So far I have found all the Balzer rods to be so. I love casting rods (overheads) and this is as good as you would want to use. Travelling around the country fishing I have found that an 8ft plus casting rod is a very versatile rod (for casting lures and some bait fishing) to have and I expect this rod to be delightful to use.
Casting Weight:
100g-120g
Type of Ring Guides:
Titanium SIC
Type of Reel Seat:
Original FUJI reel seat
Type of grip handle:
Fine Duplon Handles
Type of Blank:
IM-12 High Modulus Carbon
Australian Online Fishing Tackle Shop
Adore Tackle sells exclusively in Australia premium European fishing brands, such as: SPORTEX Germany, D.A.M Germany, COLMIC Italy, BALZER Germany, SUNSET France, SAKURA France and more.
We offer an extensive range of fishing rods (surf rods, boat rods, spinning rods or travel rods) and fishing reels (spinning reels, big game and surf reels, overhead reels, etc) soft and hard fishing lures, mono or braided fishing lines and accessories.
All our fishing tackle products are 100% genuine and backed by 2,3 or 10 year manufacturer warranty.
On top of that, we offer FREE Shipping on all orders Australia wide with no minimum order amount.