BALZER MK IM-8 DOUBLE STRIKE SPIN 2.40m (10-45g and 20-75g) 2-10kg Carbon Two Tips Spinning Rod
BALZER MK IM-8 DOUBLE STRIKE SPIN 2.40m (10-45g and 20-75g) 2-10kg Carbon Two Tips Spinning Rod
BALZER MK IM-8 DOUBLE STRIKE SPIN 2.40m (10-45g and 20-75g) 2-10kg Carbon Two Tips Spinning Rod
Product Description
BALZER MK IM-8 DOUBLE STRIKE SPIN 2.40m (10-45g and 20-75g) 2-10kg Carbon Two Tips Spinning Rod
The two tips make it easy to do justice to Matze´s most important recipe for success: "remain flexible". All the time.
This rod comes with two tips to cover many types of fishing, enabling you to adapt and go after everything from perch, bream, trout or mullet all the way to flathead, snapper, school mulloway or salmon and tailor.
BALZER MK IM-8 DOUBLE STRIKE SPIN

2.40m 10-45g and 20-75g High-Quality Light Spinning rods Quality IM-8 carbon blank Fine quality Duplon handle Titanium SIC guides Nylon/ABS and Stainless Steel reel seat 6 ring-guides 2+1 sections
The two exchangeable tips, with different casting weights and action make it possible to fish with big spoons, shads or jerkbaits using the stiffer tip as well as gently guiding plastics, worms or spinners and small wobblers with the finer and more sensitive tip.
TECHNICAL CHARACTERISTICS
IM-8 Ultra High Quality Carbon Blank (read more about fishing rod carbon blank types)


Nylon/ABS and Stainless Steel reel seat

Titanium SIC guide rings

Fine Quality DUPLON handle

2+1 sections

Length: 2.40m

Casting Weight: 10-45g and 20-75g

Rod Rating: 2-10kg

Weight: 195g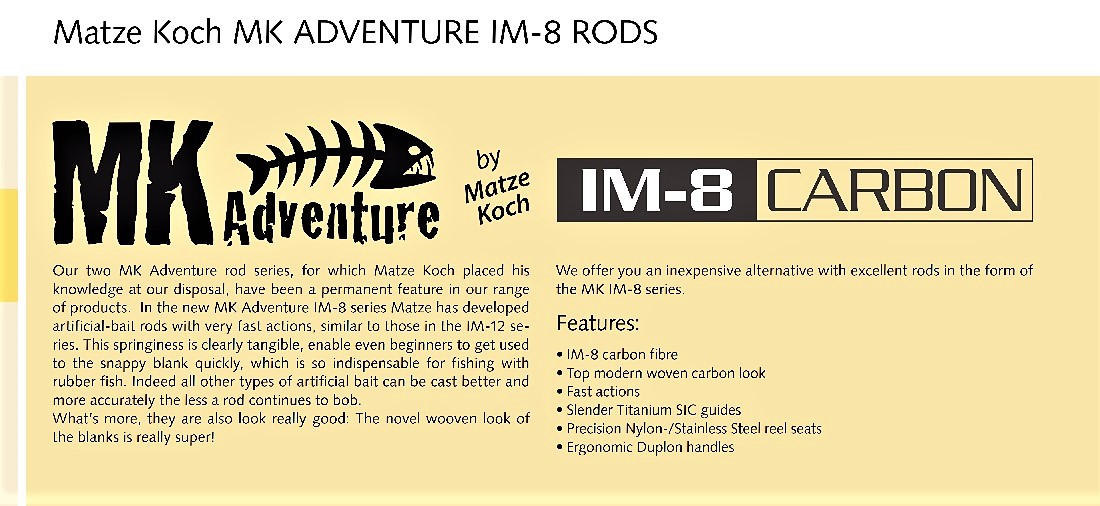 Type of Ring Guides:
Titanium SIC
Type of Reel Seat:
Nylon/ABS and stainless steel
Type of grip handle:
Fine DUPLON handle
Type of blank:
Ultra High Quality IM-8 Carbon
Customers also viewed
Australian Online Fishing Tackle Shop
Adore Tackle sells exclusively in Australia premium European fishing brands, such as: SPORTEX Germany, D.A.M Germany, COLMIC Italy, BALZER Germany, SUNSET France, SAKURA France and more.
We offer an extensive range of fishing rods (surf rods, boat rods, spinning rods or travel rods) and fishing reels (spinning reels, big game and surf reels, overhead reels, etc) soft and hard fishing lures, mono or braided fishing lines and accessories.

We offer FREE SHIPPING on all orders Australia wide with no minimum order amount.