BALZER MK PIKE PERCH WHIP 2.25m (19-56g) 4-8kg Toray Carbon Spinning Rod
BALZER MK PIKE PERCH WHIP 2.25m (19-56g) 4-8kg Toray Carbon Spinning Rod
BALZER MK PIKE PERCH WHIP 2.25m (19-56g) 4-8kg Toray Carbon Spinning Rod
Product Description
BALZER MK PIKE PERCH WHIP 2.25m (19-56g) 4-8kg IM-12 High Modulus TORAY Carbon Spinning Rod
The best-known phrase for Matze Koch must be: Stay flexible! He has often enough used rods in ways for which they were not intended, completely ignoring what the manufacturers had printed on the blank. This did not make it easy for him to develop rods because he wanted his rods to have precisely those characteristics: i.e. they should cover large segments, enable the angler to react as flexibly as possible, and they can be used for other purposes than the intended one without any misgivings. We have succeeded in performing this tightrope walk-type feat in the form of the high class IM-12 and the affordable IM-7 rods. A sensitive rod for catching either bream and snook, salmon, GT, gummies, kingfish and mulloway? It exists! A rod which is short and easy to handle and at the same time capable of making it easier to embark on vertical fishing. A rod suitable for medium spin fishing and light jerking? This too was made possible in the MK series.Casting weight specifications ranging from 6 to 60 grams are by no means utopian. And it is so delicate that it can present ultra light bait perfectly and nevertheless go ahead and perform a full swipe with a 50 gram jerk.

Features:

• Japanese TORAY IM-12 carbon • FUJI Skeleton reel seat, 20 % lighter • The special curvature of the guide supports acts as a "line deflector" and prevents loops of the line from getting wrapped around the guides, even when casting is inferior. • The Titanium SIC "Vector Angle" guides stand extra far away from the blank so that the line does not get stuck to the rod even during heavy rain.
BALZER MK PIKE PERCH WHIP

2.25m 19-56g Spinning rods Ultra High Modulus IM-12 carbon blank High quality Duplon handle Titanium SIC guides 8 ring-guides 2 sections
Like all of the models in the IM-12 series, this exceptionally fast spinning rod is light in weight and one can fish with it for many hours without tiring. Medium-sized stickbaits or wobblers up to 20 cm are no problem for the fast action rod, even lightweight jerks can be presented attractively. And when fishing with rubber fish the pike whip can play out its strong features to the full. It is just as good at short, gentle lobs out of the rod blank as the classic lazybones method.
It is sensitive enough to also present to smaller bream/salmon or flattie the bait successfully.
Only 150 grams!!
High End Rods at Incredibly low prices!
Technical Characteristics:
Ultra High Modulus Toray Japan IM-12 carbon blank (read more about fishing rod carbon blank types)


FUJI skeleton reel seat

High quality DUPLON handle

Titanium SIC guide rings

2 sections

Length:2.25m

Casting weight: 19-56g

Rod Rating: 4-8kg

Weight: 150g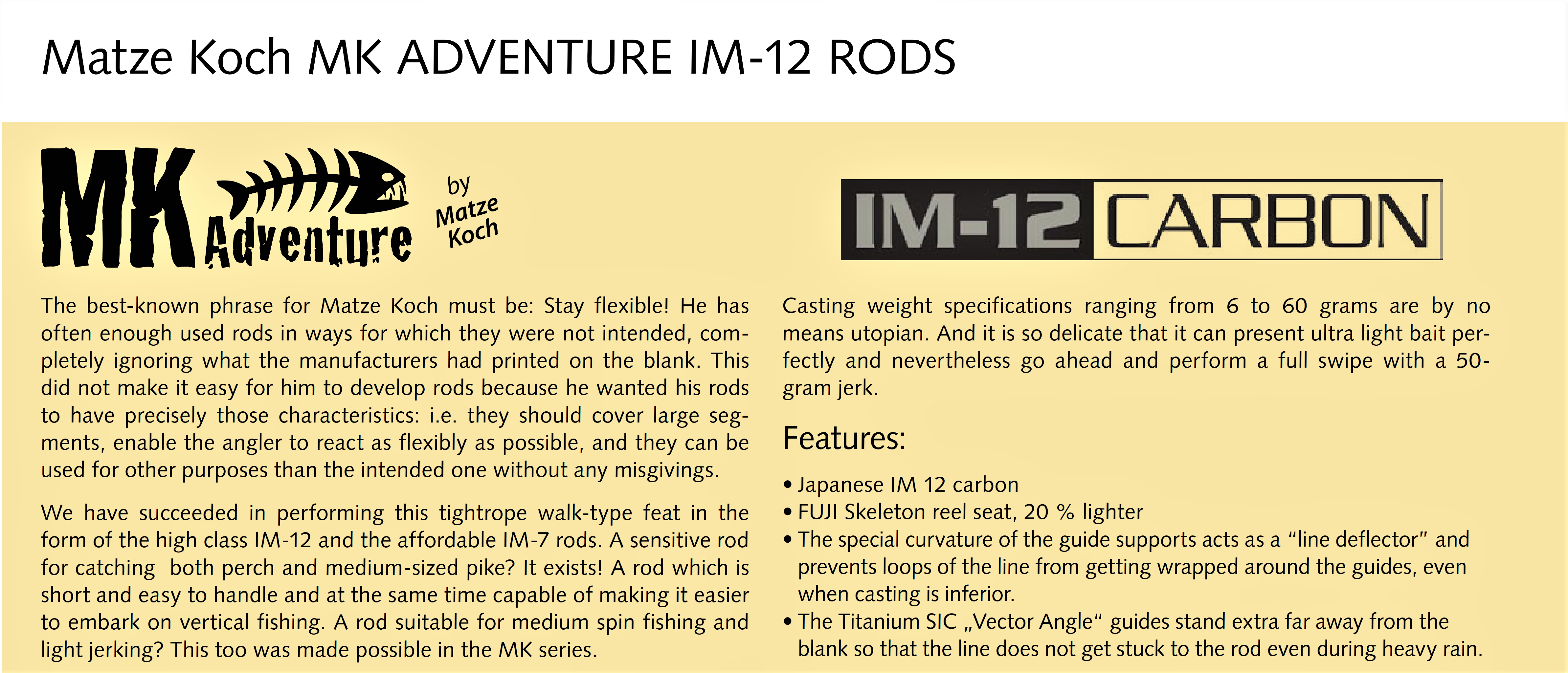 Type of Ring Guides:
Titanium SIC
Type of Reel Seat:
Original FUJI reel seat
Type of grip handle:
Fine Duplon Handles
Type of Blank:
IM-12 High Modulus Carbon
Australian Online Fishing Tackle Shop
Adore Tackle sells exclusively in Australia premium European fishing brands, such as: SPORTEX Germany, D.A.M Germany, COLMIC Italy, BALZER Germany, SUNSET France, SAKURA France and more.
We offer an extensive range of fishing rods (surf rods, boat rods, spinning rods or travel rods) and fishing reels (spinning reels, big game and surf reels, overhead reels, etc) soft and hard fishing lures, mono or braided fishing lines and accessories.

We offer FREE SHIPPING on all orders Australia wide with no minimum order amount.