BALZER NORWAY Safary Travel Boat30 2.15m (300-650g) 20-28kg Carbon Travel Boat Rods
BALZER NORWAY Safary Travel Boat30 2.15m (300-650g) 20-28kg Carbon Travel Boat Rods
BALZER NORWAY Safary Travel Boat30 2.15m (300-650g) 20-28kg Carbon Travel Boat Rods
Product Description
BALZER NORWAY Safary Travel Boat30 2.15m (300-650g) 20-28kg Carbon Travel Boat Rods
A genuine all-rounder for artificial and natural bait fishing for bait weighing up to 700g. With a cross-butt for using belly belts. Ultra strong reel seat.
A rod that will land you anything from Mackerel, Dogtooth, GTs, Tuna, Dolphin Fish, etc.
BALZER NORWAY Safary Travel Boat 2.15m 300-650(g) / 25-30Lbs. Ultra Heavy Jigging/ Boat Travel rods Ultra High Quality IM-6 carbon blank Reel seat made from Nylon/ABS and stainless steel Three-piece, Non-slippery DUPLON handle Titanium SIC guides 10 ring-guides Removable cup 4 sections
It is in line with the present trend to fly off conveniently to have a fishing holiday. No wonder, with air travel constantly becoming cheaper. However, in some cases the airlines charge a lot for transporting the long rod tubes. That is why Balzer now has the Norway Safari rods in a 4-section travel version which fits easily into your case.
Technical Characteristics:
Ultra High Quality IM-6 carbon blank (read more about fishing rod carbon blank types)

Nylon/ABS and stainless steel reel seat

Non-slippery DUPLON handle

Titanium SIC guide rings

4 sections

Length: 2.15m

Casting weight: 300-600g (25-30 Lbs)

Rod Rating: 20-28kg

Weight: 370g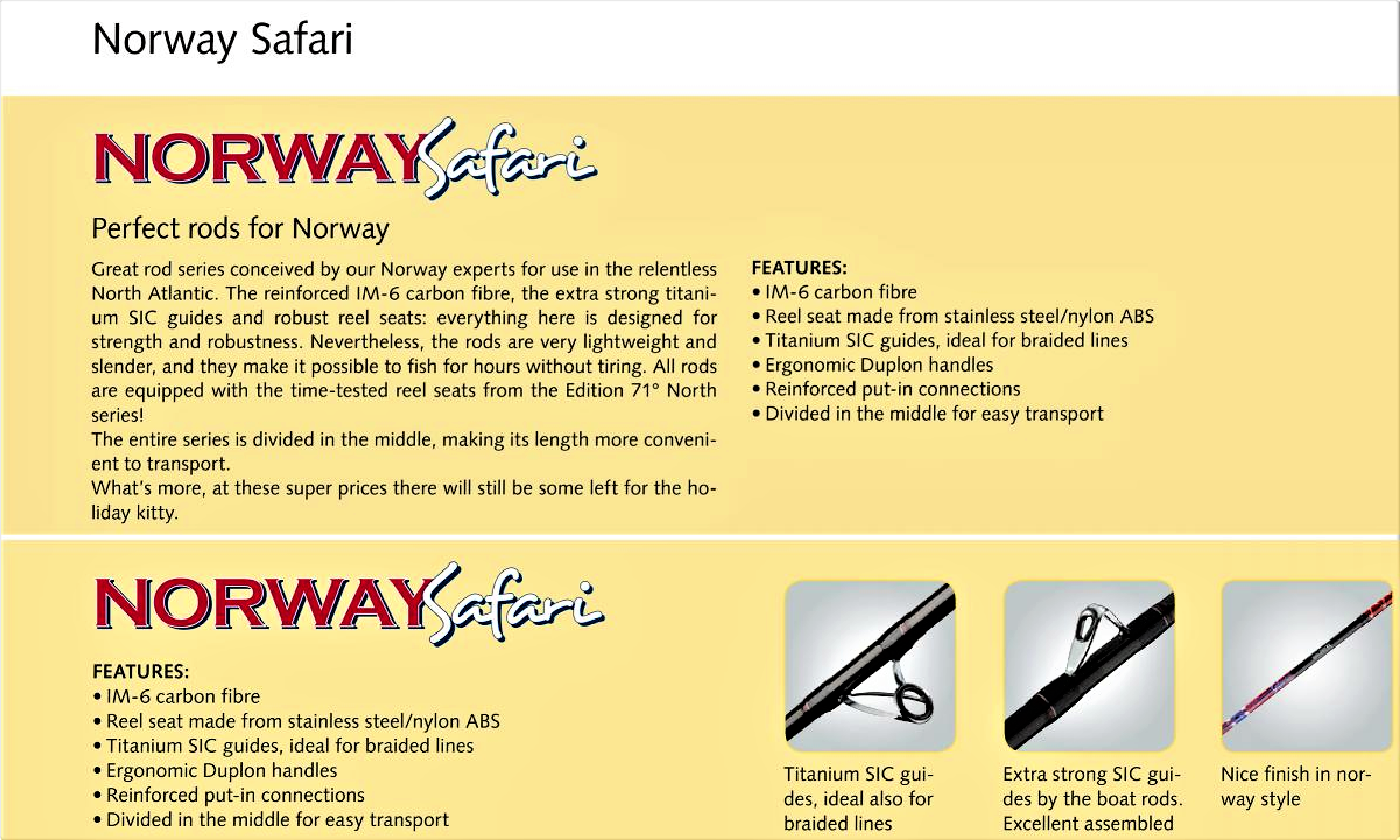 Product Reviews
Write Review
Light game

Posted by Lance Jansen on May 1st 2019

Took this rod up to the Whitsundays and used it with the 4000 reel spooled with 20lb braid. It was good for spinning with jigs and soft plastics plus trolling lures. Fish caught included, 60cm tarpon, small GTs , Coral trout and a variety of cod. Fit inside the suitcase in a tube and really an awesome product for the small investment.
Casting Weight:
Over 300g
Type of Ring Guides:
Titanium SIC
Type of Reel Seat:
Reel seat made from stainless steel/nylon ABS
Type of grip handle:
Ergonomic Duplon handles
Type of Blank:
IM-6 High Modulus Carbon
Customers also viewed
Australian Online Fishing Tackle Shop
Adore Tackle sells exclusively in Australia premium European fishing brands, such as: SPORTEX Germany, D.A.M Germany, COLMIC Italy, BALZER Germany, SUNSET France, SAKURA France and more.
We offer a wide range of fishing rods (surf rods, boat rods, spinning rods or travel rods) and fishing reels (spinning reels, big game and surf reels, overhead reels, etc) soft and hard fishing lures, mono or braided fishing lines and accessories.
All our fishing tackle products are 100% genuine and backed by 2,3 or 10 year manufacturer warranty.
On top of that, we offer FREE Shipping on all orders Australia wide with no minimum order amount.