COLMIC ADRIATICA 3.80m (30-200gr) 6-18kg Light Surf Jetty Beach and Boat Multi Tips Spinning Fishing Rods
COLMIC ADRIATICA 3.80m (30-200gr) 6-18kg Light Surf Jetty Beach and Boat Multi Tips Spinning Fishing Rods
COLMIC ADRIATICA 3.80m (30-200gr) 6-18kg Light Surf Jetty Beach and Boat Multi Tips Spinning Fishing Rods
Product Description
COLMIC ADRIATICA 3.80m (30-200gr) 6-18kg Light Surf Jetty Beach and Boat Multi Tips Toray Carbon Spinning Fishing Rods
Bottom Fishing (Bolentino) rod, ideal for fishing on shallow to medium-deep sea bottom using medium / light weights. Very light and reliable ADRIATICA is built using TORAY HM ULAF CARBON PROFORCE and it is mounted with quality SEA GUIDES Titanium S-SC Treatment.
Exceptional rod for Light Surf and Beach Species as well.
COLMIC ADRIATICA 3.80m (12' 6") 30-200g (1.05-7.05 oz.) Special Bolentino Surf and Beach Sea rods Pro Force Carbon Power Double Tape/ Ultra light aerospace fiber HMC40J TORAY carbon blank , Reel seat made from Nylon/ABS and stainless steel Non-Slippery NEOPRENE grip SEAGUIDE S-SIC SERIES guides 9+5 ring-guides/ 3+4 sections
Grouper, Morwong, Snapper or Jewfish as well as flatties or gummies and breams- they all are a target for this rod.
Parabolic Action. High End Rod.
Equipped with 4 separate fiber glass tip with different actions.
Technical Characteristics:
Pro Force Carbon/ ULAF HMC40J TORAY carbon blank (read more about fishing rod carbon blank types)

Nylon/ABS and stainless steel reel seat

Non-slippery NEOPRENE handle

SEAGUIDE S-SIC SERIES guide rings

3 sections + 4 interchangeable tips

Length: 3.80m

Casting weight: 30-200g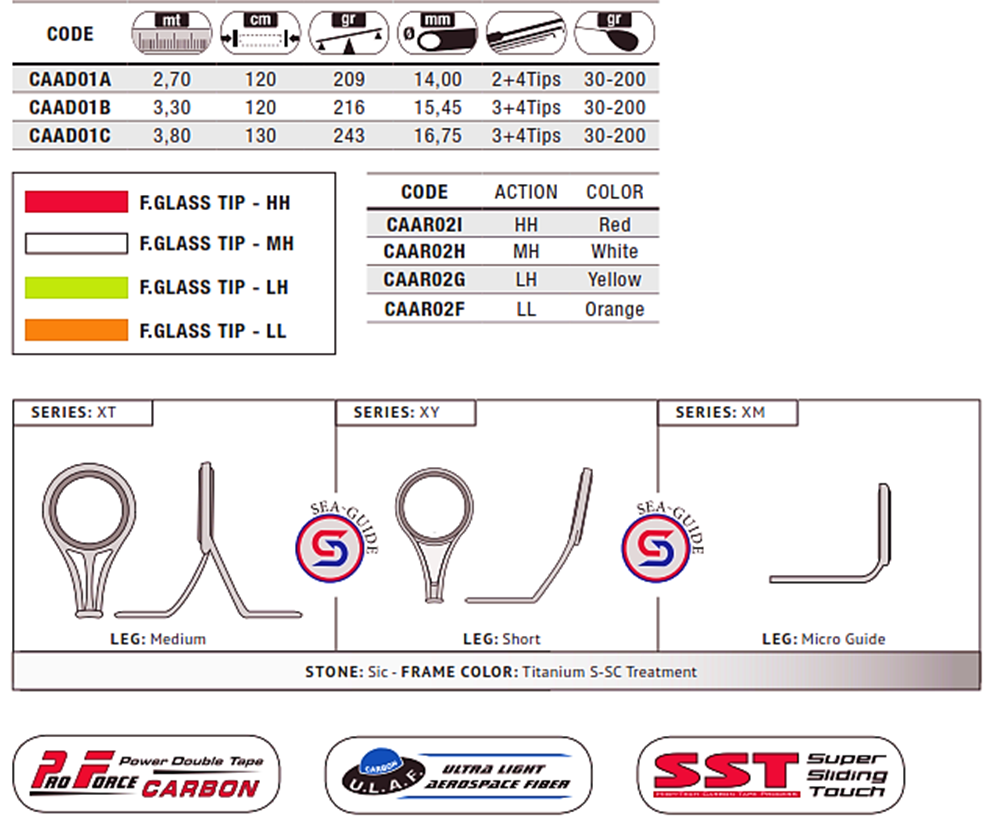 Range:
SPECIAL BOLENTINO XTREME LINE
Casting Weight:
150g-200g
Type of Ring Guides:
SEAGUIDE TITANIUM S-SIC
Type of Reel Seat:
Reel seat made from Nylon/ABS and stainless steel
Type of grip handle:
Non-Slippery NEOPRENE
Type of Blank:
PRO FORCE-POWER DOUBLE TAPE CARBON/ HMC 40J TORAY ULTRA LIGHT AEROSPACE FIBER
Australian Online Fishing Tackle Shop
Adore Tackle sells exclusively in Australia premium European fishing brands, such as: SPORTEX Germany, D.A.M Germany, COLMIC Italy, BALZER Germany, SUNSET France, SAKURA France and more.
We offer a wide variety of fishing rods (surf rods, boat rods, spinning rods or travel rods) and fishing reels (spinning reels, big game and surf reels, overhead reels, etc) soft and hard fishing lures, mono or braided fishing lines and accessories.
All our fishing tackle products are 100% genuine and backed by 2,3 or 10 year manufacturer warranty.
On top of that, we offer FREE Shipping on all orders Australia wide with no minimum order amount.