COLMIC DIRECT BEACH 4.85m (30-80g) 4-10kg Telescopic Surf Toray Carbon Fishing Rods
COLMIC DIRECT BEACH 4.85m (30-80g) 4-10kg Telescopic Surf Toray Carbon Fishing Rods
COLMIC DIRECT BEACH 4.85m (30-80g) 4-10kg Telescopic Surf Toray Carbon Fishing Rods
COLMIC DIRECT BEACH 4.85m (30-80g) 4-10kg Telescopic Surf Toray Carbon Fishing Rods
Product Description
COLMIC DIRECT BEACH 4.85m (30-80g) 4-10kg Telescopic Surf Toray Carbon

Multi Tips

Fishing Rods
Perfect rod for all the ultra light fishing lovers. Light and perfectly balanced will manage weights from 40 to 80 grams with ease.
COLMIC DIRECT BEACH 4.85m (30-80g) High Quality Telescopic Surf

Multi Tips

Rods, Toray Carbon,
CAXIN Reel seat made in stainless steel/ Non-Slippery coating grip/ SEAGUIDE SIC SERIES guides/ 6+4 ring-guides/ 4+2 sections
Equipped with two different action quiver tips, permitting to spot even the gentlest bite. Perfect for beach ledgering and competition fishing when managing very long rigs fishing with the rods in hands is the must. The rod is very light and thin but can manage large specimens without problems thanks to the blank power and length.
Ultra High End rod.
Technical Characteristics:
Pro-Force Carbon/ ULAF HMC40 Toray Japan Carbon (over 40 ton carbon) fiber (read more about fishing rod carbon blank types)


CAXIN reel seat made in stainless steel

Non-slippery coating grip

SEAGUIDE SIC guide rings

Telescopic

4 sections + 2 interchangeable tips


Length: 4.85m

Casting weight: 30-80g

Rod rating: 4-10kg

Weight: 362g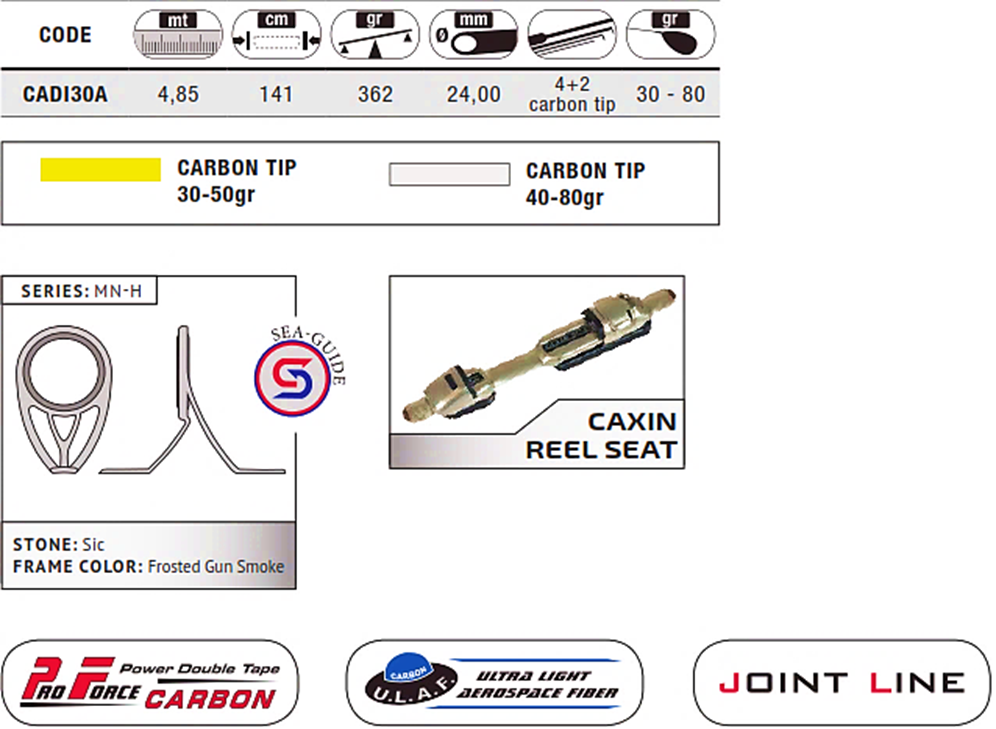 Range:
TELE BEACH XTREME LINE
Type of Ring Guides:
SEAGUIDE SIC
Type of Reel Seat:
CAXIN REEL SEAT
Type of grip handle:
Non-Slippery coating
Type of Blank:
PRO FORCE-POWER DOUBLE TAPE CARBON/ HMC 40 TORAY ULTRA LIGHT AEROSPACE FIBER
Customers also viewed
Australian Online Fishing Tackle Shop
Adore Tackle sells exclusively in Australia premium European fishing brands, such as: SPORTEX Germany, D.A.M Germany, COLMIC Italy, BALZER Germany, SUNSET France, SAKURA France and more.
We offer a wide range of fishing rods (surf rods, boat rods, spinning rods or travel rods) and fishing reels (spinning reels, big game and surf reels, overhead reels, etc) soft and hard fishing lures, mono or braided fishing lines and accessories.
All our fishing tackle products are 100% genuine and backed by 2,3 or 10 year manufacturer warranty.
On top of that, we offer FREE Shipping on all orders Australia wide with no minimum order amount.