DAM EFFZETT X-ZIBIT SPIN 3.00m (50-100g) 7-12kg CARBON HEAVY SPINNING RODS
DAM EFFZETT X-ZIBIT SPIN 3.00m (50-100g) 7-12kg CARBON HEAVY SPINNING RODS
DAM EFFZETT X-ZIBIT SPIN 3.00m (50-100g) 7-12kg CARBON HEAVY SPINNING RODS
Product Description
DAM EFFZETT X-ZIBIT S-UH SPIN 3.00m (50-100g) 7-12kg CARBON HEAVY SPINNING RODS
In 2015, D.A.M. introduced the EFFZETT® X-Zibit rods, explaining that X-Zibit stands for "Exzibit", which literally means "proof". And they chose that name because EFFZETT® X-Zibit was proof that the D.A.M. EFFZETT® division was capable of making fantastic rods at unbeatable prices. And since launching them, the market proved them right!
The EFFZETT® X-Zibit rods have been received extremely well and many EFFZETT ® X-Zibit rods have found their way to (now) extremely satisfied anglers. No wonder, because not only do they look fabulous, they are also durable and lightweight, thanks to the Japanese HCM30 carbon blanks and original Fuji® reel seats and guides.
Thanks to this unparalleled success, D.A.M. has announced the addition of an ultra-heavy baitcasting version (50-150g) - ideal for fishing big lures, like D.A.M.'s new EFFZETT® Pike Seducers and an ultra-light version (2-10g).
DAM EFFZETT X-ZIBIT

3.00m 50-100g Spinning rods Ultra High Quality Japanese HMC30 carbon blank Original FUJI Reel Seat Two-piece, Quality Original EVA handle Original FUJI SIC guides 8 ring-guides 2 sections
The X-Zibit Spins are probably the most universal rods in the X-Zibit range. By using very high grade carbon D.A.M. managed to keep these rods very slim. Still they have a fast tip action, allowing you to cast further, feeling every bite and setting the hook on time, minimizing failure on the water. Ranging from 1.90m to 3.00m in various casting weights (up to a 100g). Even the most experienced professional will be impressed by them!
TECHNICAL DETAILS
Ultra High Quality, high grade Japanese HMC30 carbon blank (read more about fishing rod carbon blank types)


Original FUJI reel seat

Original FUJI SIC guide rings

High Quality Original EVA handle

2 pieces

Length: 3.00m

Casting Weight: 50-100g

Rod Rating: 7-12kg

Weight: 230g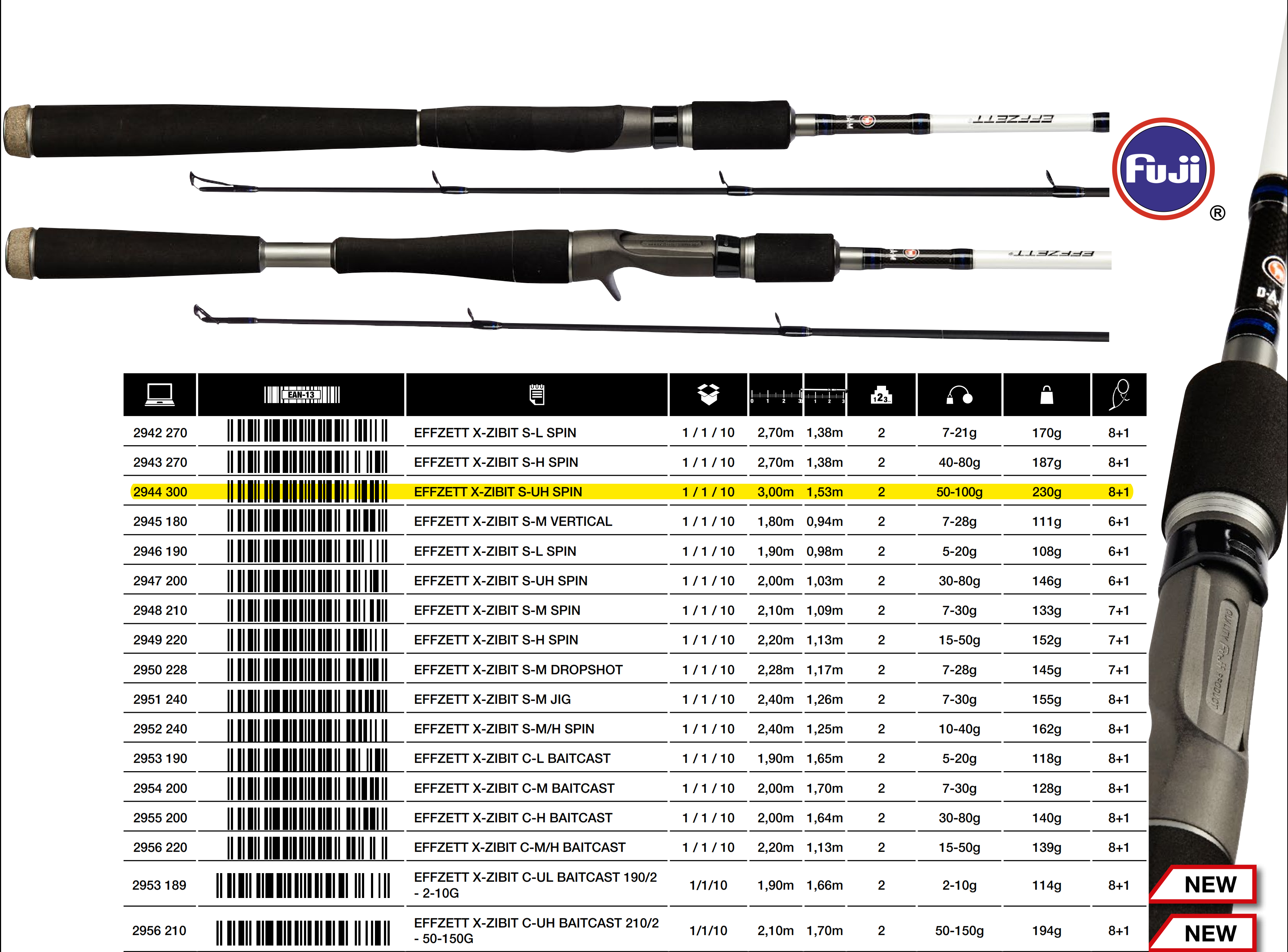 Range:
EFFZETT X-ZIBIT S-UH SPIN
Australian Online Fishing Tackle Shop
Adore Tackle sells exclusively in Australia premium European fishing brands, such as: SPORTEX Germany, D.A.M Germany, COLMIC Italy, BALZER Germany, SUNSET France, SAKURA France and more.
We offer an extensive range of fishing rods (surf rods, boat rods, spinning rods or travel rods) and fishing reels (spinning reels, big game and surf reels, overhead reels, etc) soft and hard fishing lures, mono or braided fishing lines and accessories.
All our fishing tackle products are 100% genuine and backed by 2,3 or 10 year manufacturer warranty.
On top of that, we offer FREE Shipping on all orders Australia wide with no minimum order amount.