DAM FIGHTER PRO SURF - Quality Mix-Carbon Surf Rod- 4.50m (100-200g)
Product Description
4.50m 100-200g Surf rods Carbon-Mix blank , Reel seat made from Nylon/ABS and stainless steel Non-Slippery coating grip DAM Ceramic ring guides 5+1 ring-guides 3 sections
DAM® FIGHTER PRO SURF

A wide range of Fighter Pro rods. Composite carbon rods, specifically designed for the occasional angler who wants to go fishing every now and then but doesn't want to buy an expensive carbon rod.
There are several rod series in the Fighter Pro rod range, such as an adjustable trout rod, a telescopic surf rod, three-piece surf rods, feeder and match rods, two-piece spinning rods, telescopic spinning rods and even a trolling rod.
Ideal for making combos for budget conscious anglers.
DAM Fighter Surf rods- quality surf rods at very decent prices.
TECHNICAL CHARACTERISTICS
Quality Carbon-Mix blank construction


DAM Ceramic ring-guides

Nylon/ABS and stainless steel reel seat

Non-slippery coating grip

3 sections

Length: 4.50m

Casting Weight: 100-200g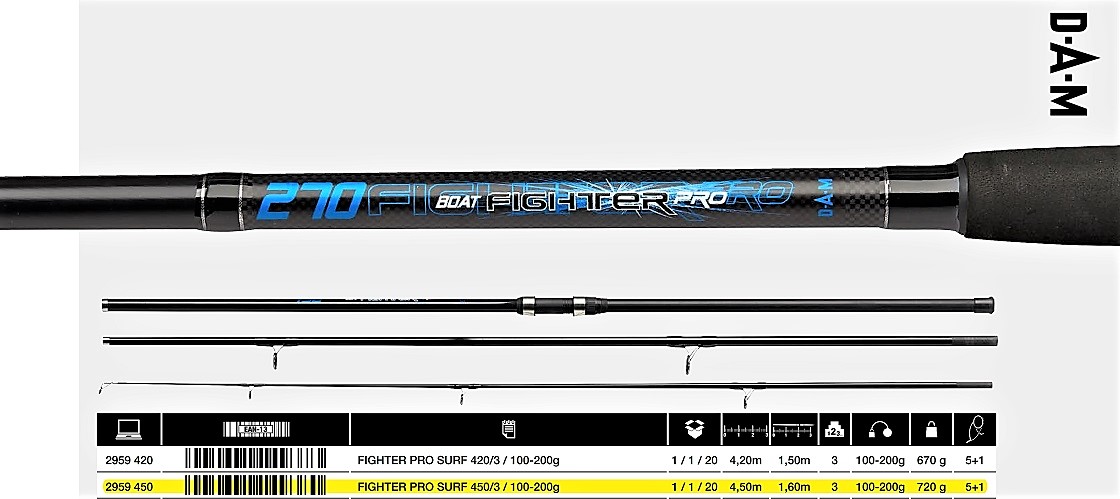 Type of Ring Guides:
DAM Ceramic
Type of Reel Seat:
Reel seat made from Nylon/ABS and stainless steel
Type of grip handle:
Non-Slippery coating
Type of Blank:
Reinforced Carbon-Mix