DAM Quick ROYAL 790 FD - High End -Big Pit Premium Saltwater Spinning Reel - 30 Kg Drag Force- Size 9000
DAM Quick ROYAL 790 FD - High End -Big Pit Premium Saltwater Spinning Reel - 30 Kg Drag Force- Size 9000
DAM Quick ROYAL 790 FD - High End -Big Pit Premium Saltwater Spinning Reel - 30 Kg Drag Force- Size 9000
Product Description
SPINNING REEL Front-Drag BIG-PIT SIZE #9000 6+1 ball bearings (BB) Capacity: 350m of 0.50 mm Double anodized Aluminium Spool Aluminium Spare Spool Duraluminium body Micro adjustable front drag Gear Ratio: 4.1:1
DAM Quick ROYAL® 790 FD
The next generation DAM Quick Royal® aluminium reels, now in an attractive black color. These reels are the ultimate powerhouses.
Saltwater resistant with very high power drag these reels are ideal for Mako or Bronzie sharks, Monster grouper, Tuna, Mackerel, Giant Trevally or other big, powerful sea monsters.
The MASSIVE spool capacity ( 350m of 0.50mm!!) in combination with the HUGE 30kg Drag Force and an impressive line retrieve of 109cm per crank make the Quick® Royal 990 the big number one spinning reel for distance buoy fishing, whether from rocks, jetties or boats.
TECHNICAL DETAILS
Duraluminium body

6 double sealed Japanese stainless steel ball bearings

1 high grade, one way clutch needle bearing

Precision engineered, machine cut stainless steel S-slider

Thick, 7 mm stainless steel main shaft

Ultra strong stainless steel drive gear

Easy access hole for easy maintenance and greasing

Extra thick aluminium bail

Titanium coated, oversized line roller

Quick folding, interchangeable power handle

Machine cut, duraluminium made handle

Aluminium, CNC cut long cast spool with massive line capacity

Oversized, soft touch handle knob

10 sets of precision high grade carbon washers for excellent drag function

Micro-adjustable front drag

Waterproof body and drag design for life long protection

Incredible maximum drag power rated at + 30Kg

Especially designed for saltwater fishing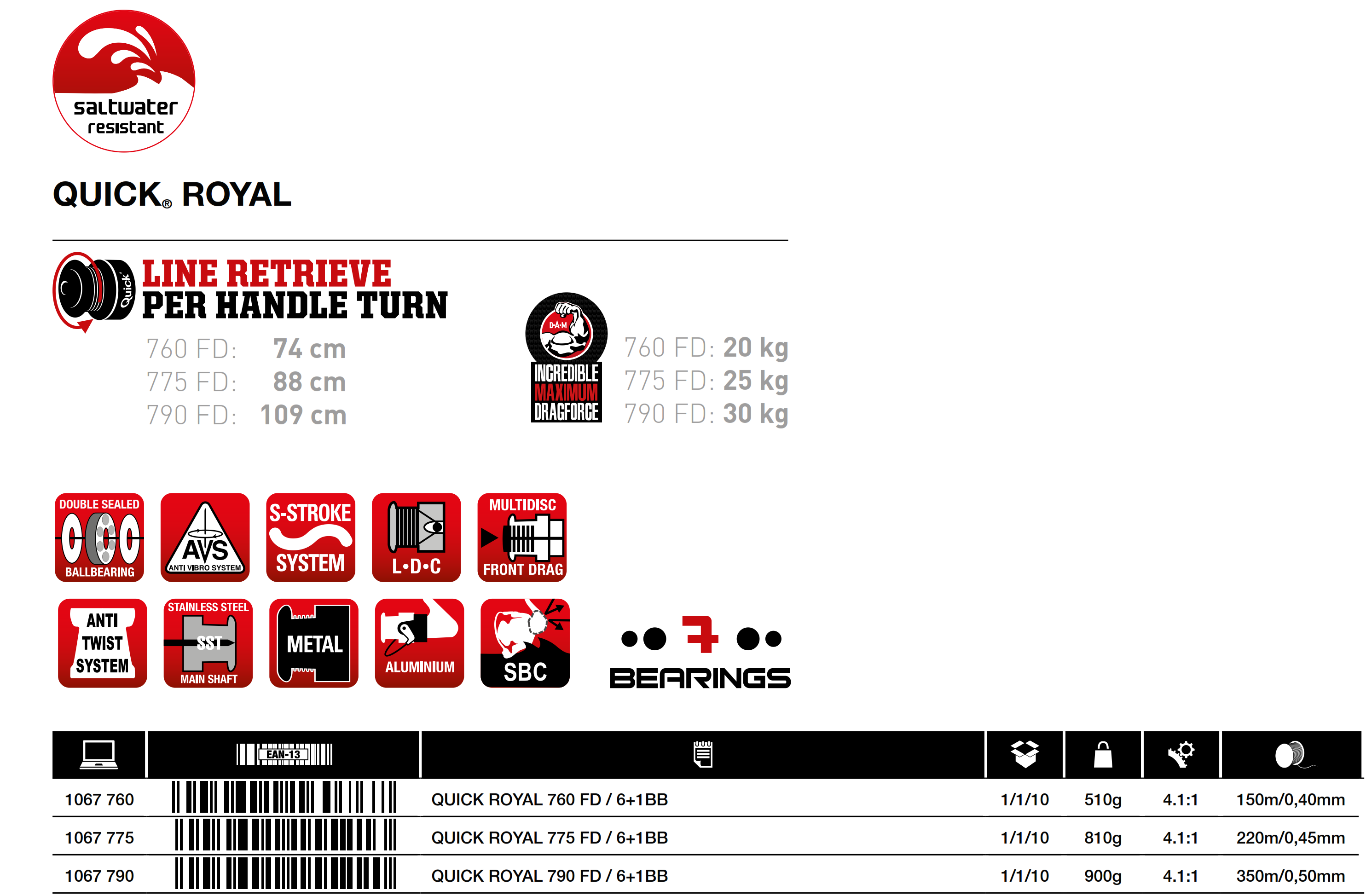 No. of Ball Bearings:
6+1