SAKURA GOLDEN BAY HIGH-END RODS GOBS 842 XH - 8'4'' (2.54 m) - 150 g Max
SAKURA GOLDEN BAY HIGH-END RODS GOBS 842 XH - 8'4'' (2.54 m) - 150 g Max
SAKURA GOLDEN BAY HIGH-END RODS GOBS 842 XH - 8'4'' (2.54 m) - 150 g Max
Product Description
2.54 m(8' 4")/ 150g max/ Spinning Rods, Toray Japan HM40 Carbon, Ergonomic high density EVA handle, Fuji seat and Fuji Alconite K-Frame Tangle Free ring guides, 2 sections
We are proud to unveil the new range of SAKURA Golden Bay lure rods, rich with 20 highly technical models. We are committed to develop very specific blanks, totally adapted to the current marine fisheries, both in the Atlantic and Mediterranean. You will discover models dedicated to casting or vertical fishing styles. When you get them in hand, you will soon understand why they largely surpass their competitors in this price range. The Golden Bay rods take advantage of the latest technological developments in design. Lightweight, ease of use are quite remarkable and resistance to compression, simply extraordinary. The sheets of carbon HM 40T, have been chosen and worked with great care to make these unique blanks with accurate and comfortable action. Of course, SAKURA Golden Bay rods enjoy the famous Fuji guides "K-Frame", with Alconite rings, which significantly limit tangles when casting, thanks to their unique profile. These high-end guides with stainless finish will beat the competitors in all conditions specially in saltwater tough environment.

SAKURA GOBS 842 XH
The blank of this Golden Bay JOBS XH 842 has a perfect tip action to cast long distances and impart action on your lures in order to trigger bites. But this "long" version of 254 cm also allows you to launch your lure in the right place for hunting without being too close to the boat and the disturbance it creates.
This model is also remarkable to track down game fish from the coast. Whether on Indian or Pacific Ocean, you can fight any opponents ranging from 10 to 40 kilos!
High Performance Toray Japan HM40T carbon
Fuji guides
Fuji reel seat
Hi-density EVA ergonomic grip
Padded cloth bag Guides
Fuji Alconite K-Frame Tangle Free
Alconite or reinforced aluminum oxide, is the third material on FUJI quality scale for the construction of the ceramic ring of the ring. It is behind SIC in terms of thermal conductivity, sensitivity, sliding and abrasion resistance. It is resistant to the friction braids. The polished stainless steel frame and is a great resistance to marine corrosion. FUJI Alconite is very often used as a component on rods in mid-high range. Always at the forefront of innovation, Sakura offers to benefit from the advanced technology of Fuji with the use of new rings of the "K" series. The development of these rings has resulted in an uncommon frame profile that cancels any risk of tangling when casting. Used on all our rods Golden Bay, the "K-Frame" rings will bring great security and comfort whatever the conditions.
Reel seat : Fuji DPS
Golden bay rods are equipped with Fuji reel seats. Robustness, ergonomics and precision in their construction are the characteristics of these essential accessories for the proper attachment of the reel on the rod, a guarantee of comfort and efficiency. Often copied but never equaled, the Fuji reel seats are true reference points in the world market. They mainly equip the most high-end rods for freshwater or sea. So you also require the FUJI quality!
Grip material : Hi-density EVA
Compact and dense EVA foam used on our rods ensures a comfortable fit regardless of the weather conditions and perfectly transmit the vibrational messages sent by your lure and bites from your target fish.
Grip length:
L1 : 470 mm
L2 : 610 mm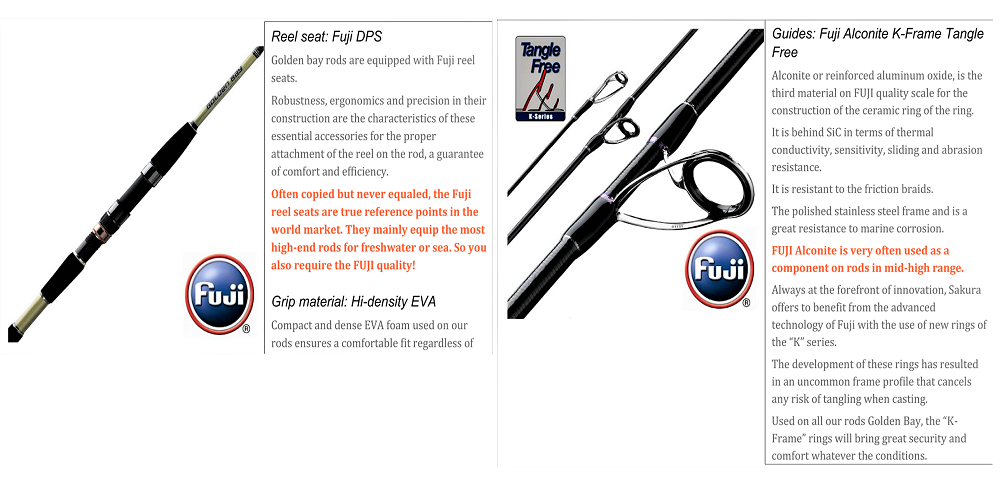 Australian Online Fishing Tackle Shop
Adore Tackle sells exclusively in Australia premium European fishing brands, such as: SPORTEX Germany, D.A.M Germany, COLMIC Italy, BALZER Germany, SUNSET France, SAKURA France and more.
We offer an extensive range of fishing rods (surf rods, boat rods, spinning rods or travel rods) and fishing reels (spinning reels, big game and surf reels, overhead reels, etc) soft and hard fishing lures, mono or braided fishing lines and accessories.
All our fishing tackle products are 100% genuine and backed by 2,3 or 10 year manufacturer warranty.
On top of that, we offer FREE Shipping on all orders Australia wide with no minimum order amount.