SUNSET EUROPA 4.20m max 300g 23kg Carbon Surf Rods
SUNSET EUROPA 4.20m max 300g 23kg Carbon Surf Rods
SUNSET EUROPA 4.20m max 300g 23kg Carbon Surf Rods
Product Description
SUNSET EUROPA 4.20m 14' max 300g 23kg Carbon Surf

Multi Tips

Fishing Rods
SUNSET EUROPA series, specifically designed in France to support drift fishing with big lures or live bait will meet and exceed your expectations! The EUROPA Rod Series is built on a thin high modulus HMC40 blank and has 3 sections and 3 interchangeable power tips, that each provide a perfect curve and an impressive reserve of power when needed!

SUNSET EUROPA 4.20m/ Max 300g/ Surf-Shore Rods, High Modulus HMC40 Carbon, High-density EVA handle, Tubular Seat, Original SeaGuide SIC Ring guides, anti-shock knob, 7+tips ring-guides, 4+2 sections
But what this rod is best at, is that you can use this marvel in any circumstances! Big fish, shy fish, fast fishing and retrieving techniques using artificial lures or fresh baits. A super high end, high quality, special rod for any occasion!
You can use it as a fantastic surf or beach rod, from the rocks or even from the boat.
Each tip allows for different casting weights, so whatever the situation, you are covered!
Whether you go for mulloway or kingfish, tailor and salmon, gummies and bronzies- this rod will always deliver.

TECHNICAL CHARACTERISTICS
High Modulus "Technifibre" Carbon HMC40 (read more about fishing rod carbon blank types)


4 sections

Anti-shock knob

High density EVA handle

Tubular reel seat

Original SeaGuide SIC ring-guides

3 interchangeable carbon tips

Cloth bag

Length: 4.20m

Casting weight: Up to 300g

Rod Rating: 23kg

Actual weight: 374g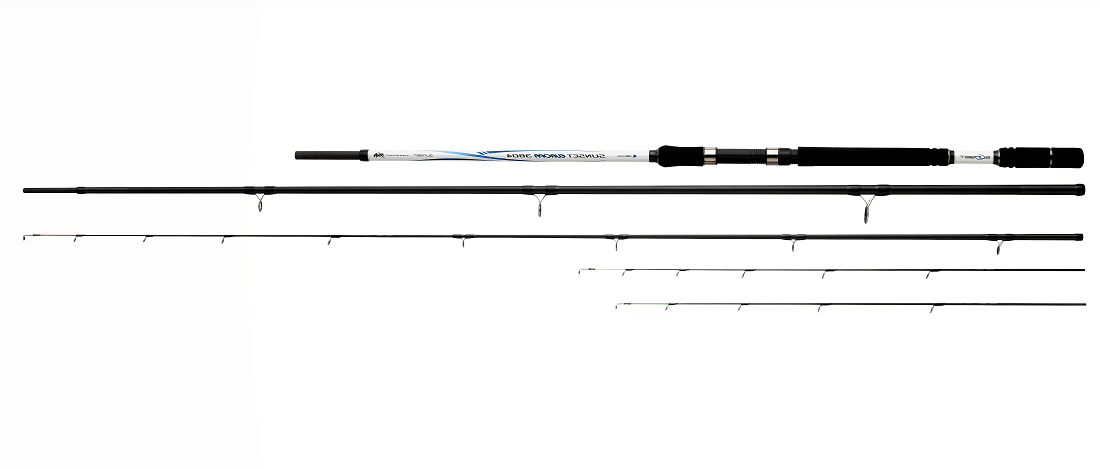 Australian Online Fishing Tackle Shop
Adore Tackle sells exclusively in Australia premium European fishing brands, such as: SPORTEX Germany, D.A.M Germany, COLMIC Italy, BALZER Germany, SUNSET France, SAKURA France and more.
We offer a wide variety of fishing rods (surf rods, boat rods, spinning rods or travel rods) and fishing reels (spinning reels, big game and surf reels, overhead reels, etc) soft and hard fishing lures, mono or braided fishing lines and accessories.
All our fishing tackle products are 100% genuine and backed by 2,3 or 10 year manufacturer warranty.
On top of that, we offer FREE Shipping on all orders Australia wide with no minimum order amount.