BALZER SHIRASU HIGH QUALITY FLUOROCARBON LINE 0.35mm 25m Spool
BALZER SHIRASU HIGH QUALITY FLUOROCARBON LINE 0.35mm 25m Spool
Product Description
High Quality Fluorocarbon Line 25m(capacity) 0.35mm(diameter) 8.20kg (knot strength)
BALZER SHIRASU High Quality FLUOROCARBON Line


Ultra high quality Fluorocarbon fishing line. Ideal for leaders when fishing with lures or bait. Invisible in water, increases chances of bites. Made from fluorocarbon throughout. This gives you the guarantee that even after long-term use, the SHIRASU line still retains its fantastic characteristic of refracting light, thus becoming quasi invisible in the water.
Technical Characteristics
Almost the same reflection factor as water, therefore practically invisible under water
Near zero stretch. Near zero elongation factor
100% fluorocarbon
Super smooth surface with UV protection treatment
Made in Japan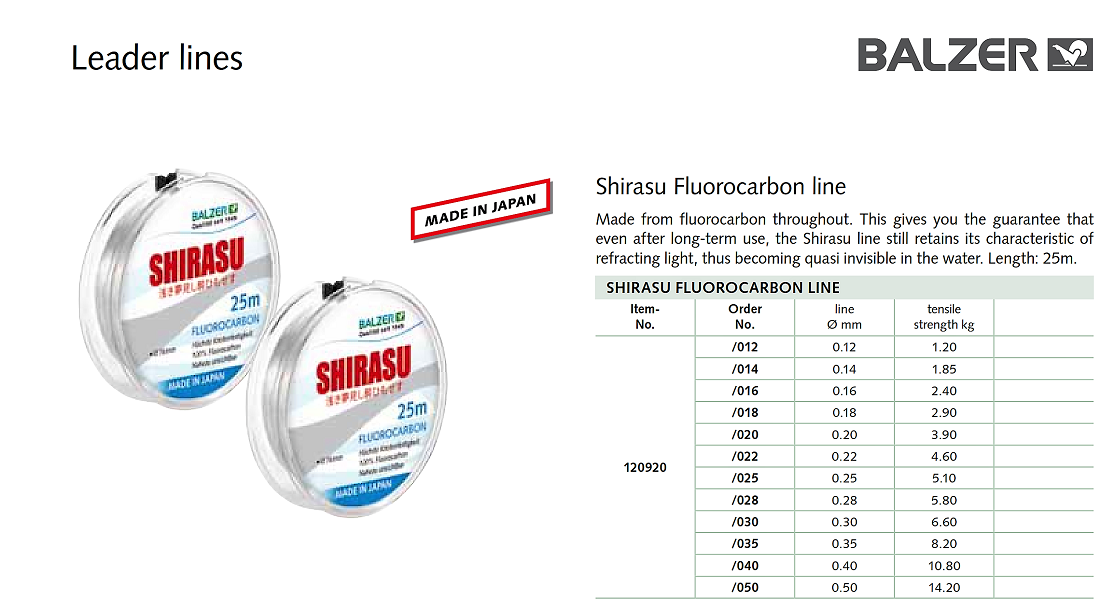 Type:
High Quality Fluorocarbon
Australian Online Fishing Tackle Shop
Adore Tackle sells exclusively in Australia premium European fishing brands, such as: SPORTEX Germany, D.A.M Germany, COLMIC Italy, BALZER Germany, SUNSET France, SAKURA France and more.
We offer an extensive range of fishing rods (surf rods, boat rods, spinning rods or travel rods) and fishing reels (spinning reels, big game and surf reels, overhead reels, etc) soft and hard fishing lures, mono or braided fishing lines and accessories.

We offer FREE SHIPPING on all orders Australia wide with no minimum order amount.