BALZER EDITION IM-12 SPIN 75 2.65m (25-75g) 4-10kg TORAY Carbon Spinning Rod
BALZER EDITION IM-12 SPIN 75 2.65m (25-75g) 4-10kg TORAY Carbon Spinning Rod
Product Description
BALZER EDITION IM-12 SPIN 75 2.65m (25-75g) 4-10kg TORAY Carbon Saltwater Spinning Rod
For a long time BALZER Edition rods have been convincing in both design and high end technology. BALZER designer team has succeeded in producing a genuine hit in terms of appearance. The symbiosis between the ruby-red, shimmering carbon surface and the gold colored elements has a superb, noble effect.
The most recent Edition IM-12 generation is a true masterpiece thanks to its slender, well-made, lightweight TORAY ultra high modulus carbon blanks with actions as fast as arrows.

The highly compressed Japanese IM-12 carbon-fiber blanks form the basis for these first-class rods. The spin rods impress with sturdy, strong and fast taper actions. The innovative FUJI reel seat of the put-in rods is open on both sides to enable one's fingers to lay on the blanks while one is fishing. There is no other more sensitive bait detection and bait guidance to be had!
This rod series it truly is the epitome of high end, high quality.
The EDITION IM-12 is BALZER's top-of-the-range rod series.
BALZER EDITION IM-12 SPIN 75 2.65m (25-75g) High End Spinning Rods, Ultra High Modulus IM-12 carbon blank

(Toray Carbon/ over 40 ton Japanese Toray Carbon) High Quality Portuguese handle, Precision FUJI reel seat Super Slim Titanium Vector Angle SIC guides 8 ring-guides 2 sections
BALZER Edition IM-12 Spin 75
The Ideal spin fishing rod for snapper and medium sized kingfish (rat kingfish) as well as big salmon, tailor, flathead, school mulloway or gummies. All kinds of artificial baits can be used. Anything from bigger plastics, grubs or shads to smaller metal jigs and 50-65g stickbaits.

Works exceptionally well also for barramundi and Murray cod.

The rod weighs only 190g!!
TECHNICAL CHARACTERISTICS
Ultra High Modulus Toray Japan IM-12 carbon blank (read more about fishing rod carbon blank types)

Precision FUJI reel seat

Super Slim Titanium SIC Vector Angle guide rings

Original high quality Portuguese natural cork handle

Perfect joints sealed with Epoxy varnish

Precision tongue-and-groove joints

2 sections

Delivered in soft case

Length: 2.65m

Casting weight: 25-75g

Rod Rating: 4-10kg

Weight: 190g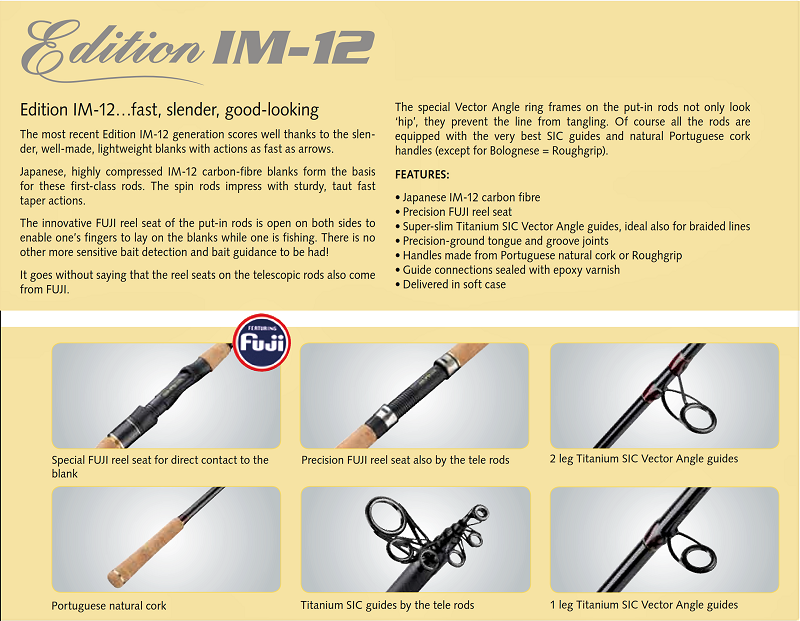 Type of Ring Guides:
Super Slim Titanium SIC Vector Angle guides
Type of Reel Seat:
Precision FUJI reel seat
Type of grip handle:
Portuguese natural cork
Type of Blank:
Ultra High Modulus Japanese TORAY IM-12 Carbon Blank
Australian Online Fishing Tackle Shop
Adore Tackle sells exclusively in Australia premium European fishing brands, such as: SPORTEX Germany, D.A.M Germany, COLMIC Italy, BALZER Germany, SUNSET France, SAKURA France and more.
We offer an extensive range of fishing rods (surf rods, boat rods, spinning rods or travel rods) and fishing reels (spinning reels, big game and surf reels, overhead reels, etc) soft and hard fishing lures, mono or braided fishing lines and accessories.

We offer FREE SHIPPING on all orders Australia wide with no minimum order amount.