HERAKLES HI-POP145 (Barracuda)
Product Description
Finesse rattling top water popper-lure with direct metal link 58g 145mm Colour: Barracuda
HERAKLES HI-POP.
The HI-POP is a brand new lure designed by Herakles for fishermen looking for strong emotions. It features the new "double" mouth style design, which for its particular inclination and the special design can splash a large amount of water allowing both slow and fast retrieves, and WTD retrieve too.
The groove on the back facilitates long casts thanks to its better aerodynamics. Thanks to its exceptional weight balance the HI-POP allows to make long casts and will be right into action as soon as the lure touch the water. Thanks to its metal wire inner structure HI-POP can be safely used to catch big predator species.
Finally, belonging to the Herakles Rising series, this lure features all the main technical innovations of all lures characteristic of this series.
Available in 2 sizes: 110mm/28gr and 145mm/58gr.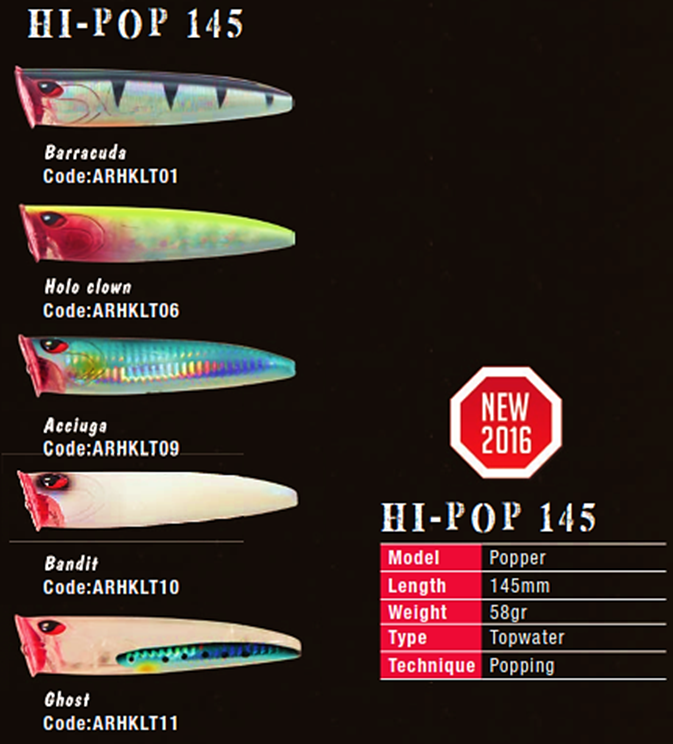 Range:
RISING SERIES- TOPWATER
Lure Action Range:
SURFACE LURES
Australian Online Fishing Tackle Shop
Adore Tackle sells exclusively in Australia premium European fishing brands, such as: SPORTEX Germany, D.A.M Germany, COLMIC Italy, BALZER Germany, SUNSET France, SAKURA France and more.
We offer an extensive range of fishing rods (surf rods, boat rods, spinning rods or travel rods) and fishing reels (spinning reels, big game and surf reels, overhead reels, etc) soft and hard fishing lures, mono or braided fishing lines and accessories.

We offer FREE SHIPPING on all orders Australia wide with no minimum order amount.